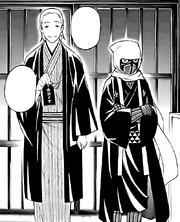 "
All Investigation Office members are to maintain and protect the freedom and neutrality of their station with their lives.
"

–Kouzou Tanno, Chapter 284
The Shadow Organization's Investigation Office was created to act as a self-purification organ, overseeing investigations related to any cases accepted by the organization.[1] However, the office operates on a very limited budget, so funding often plays a major role in what they are able to accomplish.[2][3]
Members
Former Members
Cases
References
Ad blocker interference detected!
Wikia is a free-to-use site that makes money from advertising. We have a modified experience for viewers using ad blockers

Wikia is not accessible if you've made further modifications. Remove the custom ad blocker rule(s) and the page will load as expected.