Guillotine Island (断頭島, Dantō Shima) (Headless Island in the Viz manga) is the location of The Shadow Organization's Prosecution Office. The island is run by the Enjouji siblings, Saigo and Saikaku, and has been in their family for generations.
Land Specifics
Guillotine Island is actually made up of three separate, forest-filled islands. The first island holds the administration building, where prisoners are admitted and processed
[1]
, as well as several restricted areas. The second island's upper portion holds employee dormitories
[2]
, while the basement contains a holding area for prisoners. The third island holds the brainwashing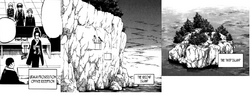 room, which supplements Yashiro's powers
[3]
, and an inquisition room, guarded by three aquatic creatures trained to attack anyone who forces open the door.
[4]
All the islands have defenses against intruders and escapees, such as spells, traps, and various creatures.
Staff
References
Ad blocker interference detected!
Wikia is a free-to-use site that makes money from advertising. We have a modified experience for viewers using ad blockers

Wikia is not accessible if you've made further modifications. Remove the custom ad blocker rule(s) and the page will load as expected.