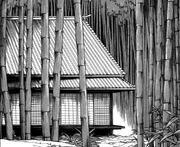 For much of the story, a secluded cabin serves as the Commander's base of operations. The cabin is located deep in a forest and largely surrounded by thick bamboo, though there is a cleared path leading through the forest. No. 3 appears to be the only one of the Sousui's operatives to ever visit the cabin;[1] all others are contacted by cellphone, telepathic messages, or other means. As the Commander's plans for revenge near their climax, he relocates his family to his former castle in Hakuma.
Former Residents
References
↑

Kekkaishi manga, Chapter 221, pages 14-15
Ad blocker interference detected!
Wikia is a free-to-use site that makes money from advertising. We have a modified experience for viewers using ad blockers

Wikia is not accessible if you've made further modifications. Remove the custom ad blocker rule(s) and the page will load as expected.