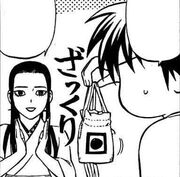 Since his introduction, Chushinmaru Karasumori is always seen wearing the same mark on his back: a black circle within a black, hollow square. Though the mark is clearly connected to Karasumori (either the land or the clan) in some way, because it is only seen when Chushinmaru is present (either in human or orb form), it is probably his personal mark.
Ad blocker interference detected!
Wikia is a free-to-use site that makes money from advertising. We have a modified experience for viewers using ad blockers

Wikia is not accessible if you've made further modifications. Remove the custom ad blocker rule(s) and the page will load as expected.