Artist
Koshi Inaba
Single
Akai Ito (赤い糸, Red Thread)
Released
December 16th, 1998
Information
Akai Ito is Koshi Inaba's first single. It was used for the first ending to Kekkaishi in episodes 1 through 15, 38 and 40.
Lyrics
Minareta machi yukkuri fukenukeru kaze
Futari shite itsumo no PEESU de aruiteru
Fuzake atte waratta ato ni kizuita
Mita koto nai otonabita sono manazashi

Nani mo hanasanakutatte iiyo daijoubu
Kimochi wa kitto machigai janai

Tada massugu nanika ni tsuki susunde yuku
Anata wo ne tsuitsui ne mitsumete shimau

Soba ni ite mo hanarete mo
Dareka to dareka tsunagu...akai ito
見慣れた町ゆっくり吹き抜ける風
二人して
いつものペースで歩いてる
ふざけ合って
笑った後に気づいた
見たことのない
大人びたそのまなざし

何も 話さなくたっていいよ
大丈夫

気持ちはきっと 間違いじゃない
ただ 真っすぐ 何かに突き進んでゆく
あなたをね ついついね 見つめてしまう
そばにい ても
離れ でも
だれかとだれかつなぐ
赤い糸
The wind slowly passes through a familiar town,
while two people walk at the same pace as always.
After laughing and fooling around,
I see a mature gaze I've never seen before.

It's OK if you don't say anything.
Your feelings are not mistaken.

Just continue to move straight ahead.
I can't help looking at you.

Whether or not I am beside you,
there is a red string that ties people together.
Video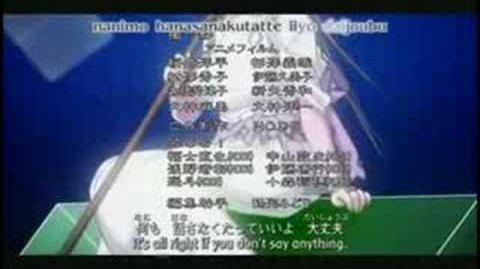 Ad blocker interference detected!
Wikia is a free-to-use site that makes money from advertising. We have a modified experience for viewers using ad blockers

Wikia is not accessible if you've made further modifications. Remove the custom ad blocker rule(s) and the page will load as expected.